The minimum requirements of the Aptivio onboarding survey to stay within any potential legal or compliance limitations.
> Onboarding
🤓 Oops! This article needs updating. Please excuse any outdated information.
Aptivio is an Intelligent Market Monitor for detecting hidden revenue opportunities and buying intent by extracting demand and risk signals from billions of data points per day and exclusive behavioral datasets. Aptivio analyses these external signals to identify opportunities in a time-relevant manner and the specific individuals to contact at your prospects.
Completing a short 1-hour survey using the Aptivio onboarding tool provides the necessary details to highlight signals that are specific to your products and target markets as a free trial. This tool does not require connecting to or integrating with any of your CRM or marketing tools, or access to internal systems.
LOGIN: Trial users access the onboarding tool via web browser and a login, using their existing LinkedIn account and company email for user verification.
REQUIRED INFORMATION: The full Aptivio onboarding survey is 8 steps. It is only necessary to complete steps 3 Products & Services, 4 Buying Influencers, and 5 Target Accounts as a bare minimum to get started.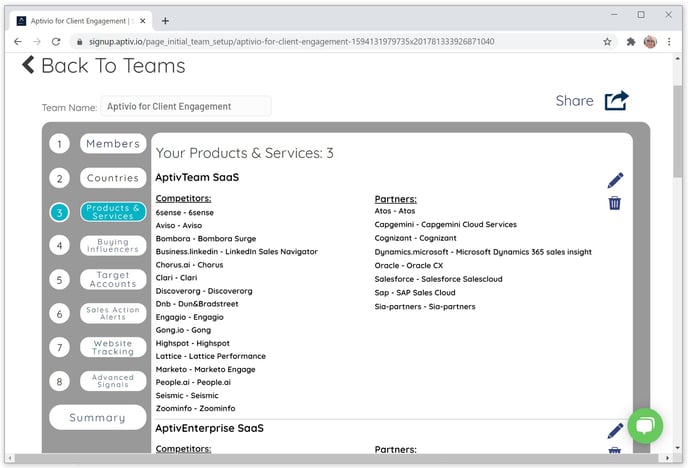 We solicit the following details as the bare minimum requirements to start a trial. None of this information is sensitive or should interfere with legal or compliance restrictions.
Product details you wish to include

Product-specific marketing webpage / landing page
Product keywords your prospects use to search for and find your product

Competing product specific webpage / landing page
Existing Partner or examples of types of companies you could potentially partner with, specific webpage / landing page
Details about the Buying Influencers; the sponsor, decision maker, technical buyer, economic buyer, etc.
Look up Target Industries using GICS codes
List of news websites / blogs your sales people visit regularly to identify prospects
ADDITIONAL INFORMATION: Following a successful free trial it is highly recommended and helpful, though not required, to provide additional details that refine the signals Aptivio identifies in a paid trial. These details will help add rich layers to the prospect story, increasing the value to your sales team. Generally this is carried out under a NDA.
Website tracking code embedded on product webpages to identify when prospects are visiting those pages
Email tracking code to identify when prospects are interacting with sales collateral
Access to subscription news services that sales staff use for identifying prospects
Connection to Salesforce via API from the Aptivio app on the Salesforce AppExchange that can push opportunities Aptivio identifies directly into your pipeline
Upload a list of Target Accounts (existing customers) to identify new opportunities, and risks

For example, when an existing account is searching on a competitor
We recommend completing as much of the 8-step survey as possible to get the most from Aptivio in detailed and relevant signals.