How to signup for Aptivio Intelligent Market Monitor.
🤓 Oops! This article needs updating. Please excuse any outdated information.
Aptivio is an Intelligent Market Monitor for detecting hidden revenue opportunities and buying intent by extracting demand and risk signals from billions of data points per day and exclusive behavioral datasets. Welcome to personalized, explainable, autonomous sales prospecting. Create a login and complete the Onboarding survey to get started.
The Aptivio Onboarding 8 step survey provides us with a snapshot of your products and services, target accounts, and how to identify signals that are specific to your products and target markets. Completing this survey takes approximately one hour.
STEP 1. Click Get Started Free from any page on the Aptivio website to navigate to the sign up page, select an option:
Sign Up your company and sales team
Join Your Team if your organization is already registered with Aptivio
Request Partnership to become an Aptivio strategic partner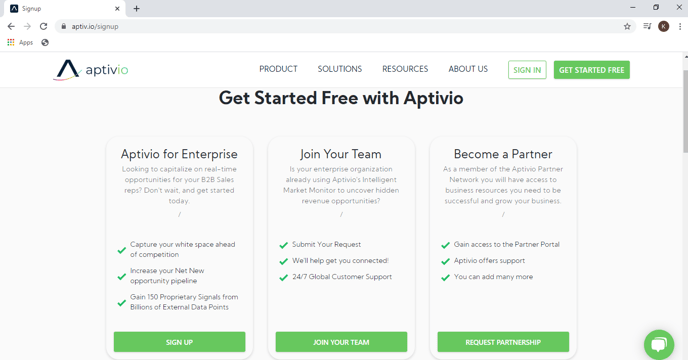 STEP 2. Sign in using your LinkedIn ID, or input your login credentials.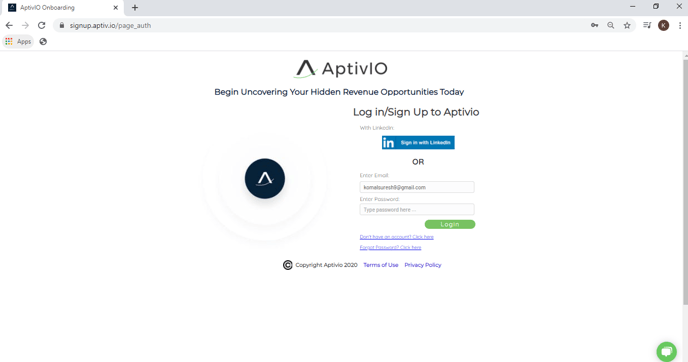 STEP 3. Enter your company's information and Submit.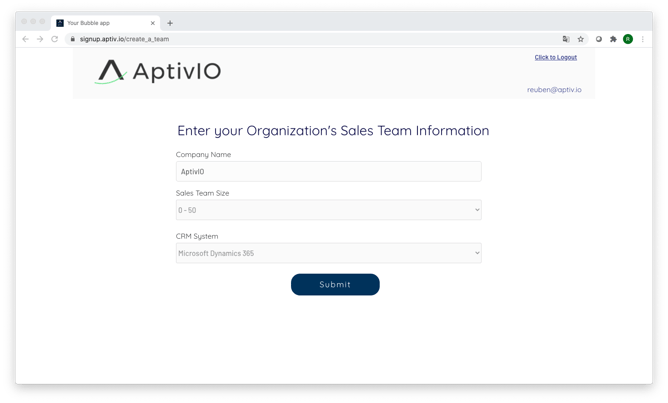 STEP 4. Complete the onboarding survey questions 1-8, previewed here.
QUESTION 1. Create a team in MEMBERS. You can add members to your team using a CSV file or you can enter members manually by typing the first name, last name, and email. You can add a company or team logo.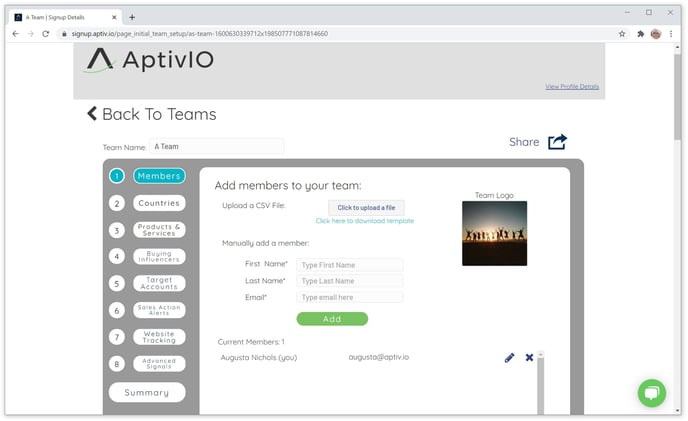 QUESTION 2. Set the COUNTRIES you would like to focus on for your target markets. You can Quick Add whole regions, or type in specific countries individually to the list. To remove a country from a specific region, click on the x for that country.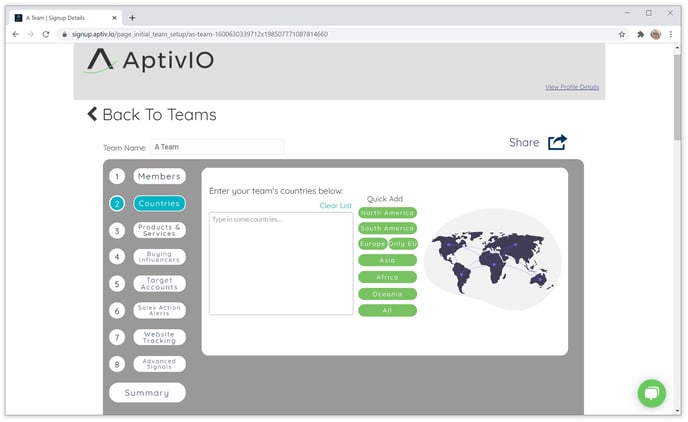 QUESTION 3. Add as many of your PRODUCTS & SERVICES as you would like to cover in the market monitor by clicking Add Product for each.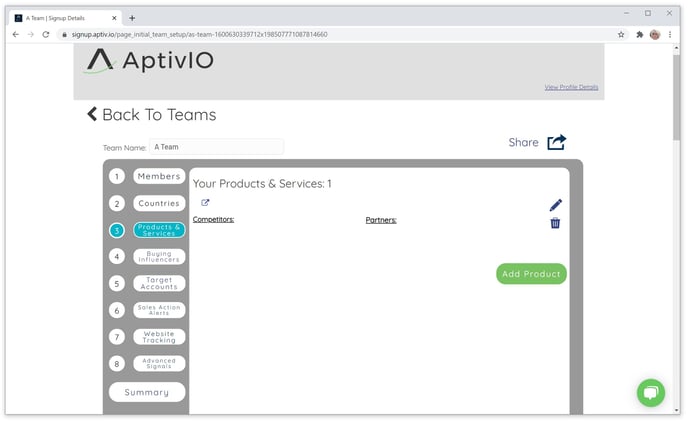 At a minimum, the product name and marketing webpage / landing page is required. Adding product keywords, competitor's products, and existing or potential partners will help finetune resulting opportunities.
QUESTION 4. Define the BUYING INFLUENCERS. The buying committee might include a sponsor, decision maker, technical buyer, economic buyer, and peripheral buying influencers. Completing this section is important for tracking and alerting you to sales-ready (or risk) activities from these groups.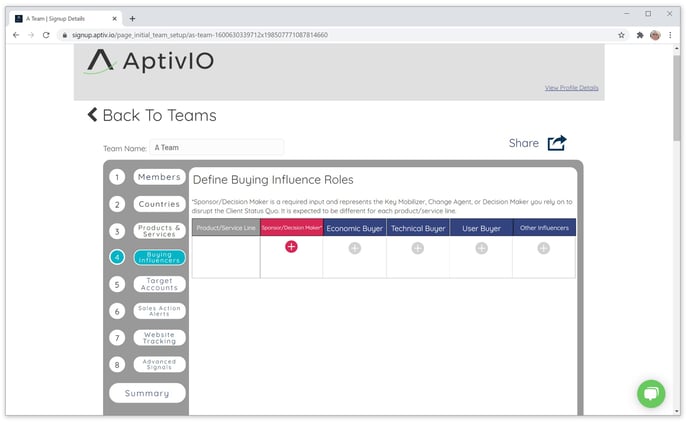 QUESTION 5. Set TARGET ACCOUNTS lists. For each account add a name, a revenue range, and LinkedIn industries to narrow the focus to your target market.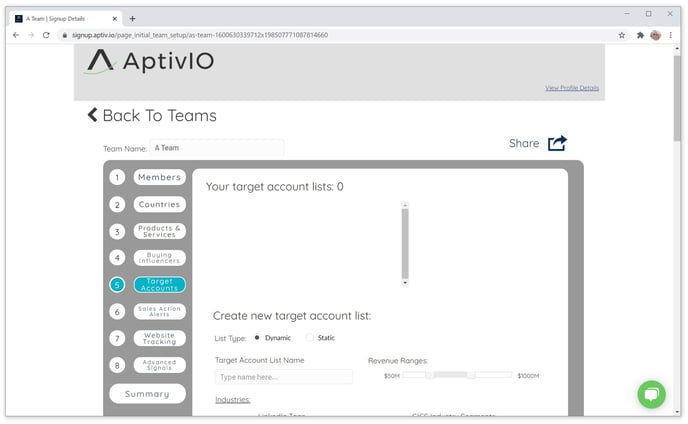 QUESTION 6. With countries, products, and target accounts entered you will be able to create new SALES ACTION ALERTS which can be received daily, weekly, or monthly (also referred to as "coverages").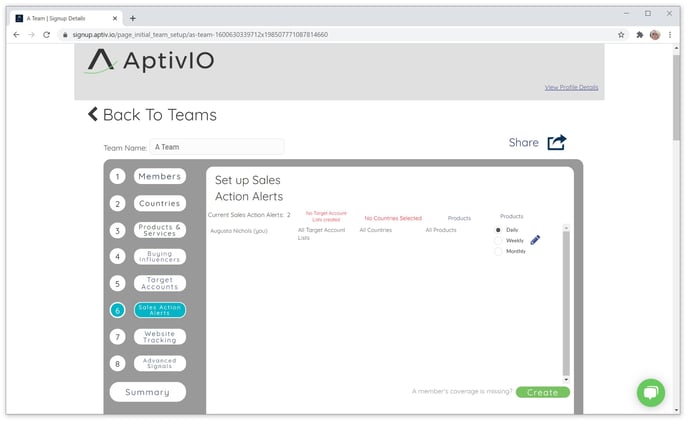 QUESTION 7. Add the Aptivio WEBSITE TRACKING code to your website. This allows us to track its activity and detect potential customers for you. The data will be added to your Aptivio Market Monitor.
Note: This step is not required upon initial setup for a trial, however it is highly recommended. View Aptivio onboarding requirements.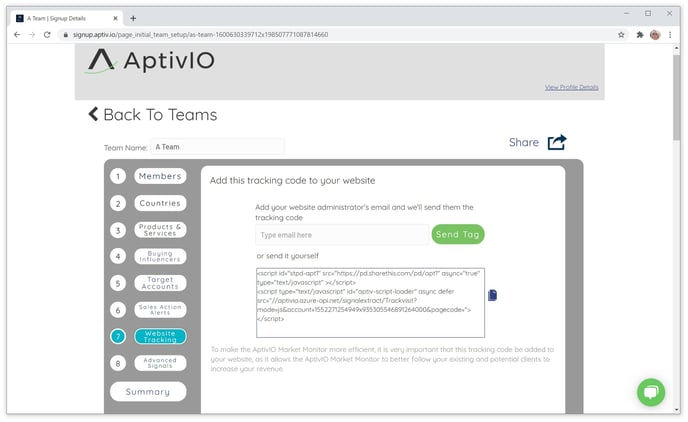 QUESTION 8. Select ADVANCED SIGNAL types from topics and data sources relevant to your company and products or services, and target market.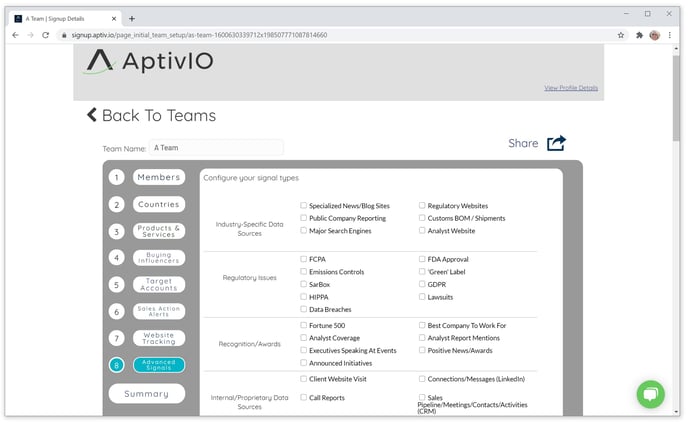 STEP 5. A summary of the entire team survey is provided for review. Click Back to return to the survey if you need to edit or would like to add more details. You can Generate a PDF to use as reference.