Define the buying influencer personas for each product/service
Onboarding > Products & Services > Buyers
Define the buying influencers for each of the products/services added in the Onboarding survey. The buying committee might include a sponsor, decision maker, technical buyer, economic buyer, and peripheral buying influencers. Completing this section is important to influence the market monitor for tracking and alerting you to sales-ready (or risk) activities from these groups.
STEP 1. Proceed to the Buyers tab in Onboarding section 3, Products & Services.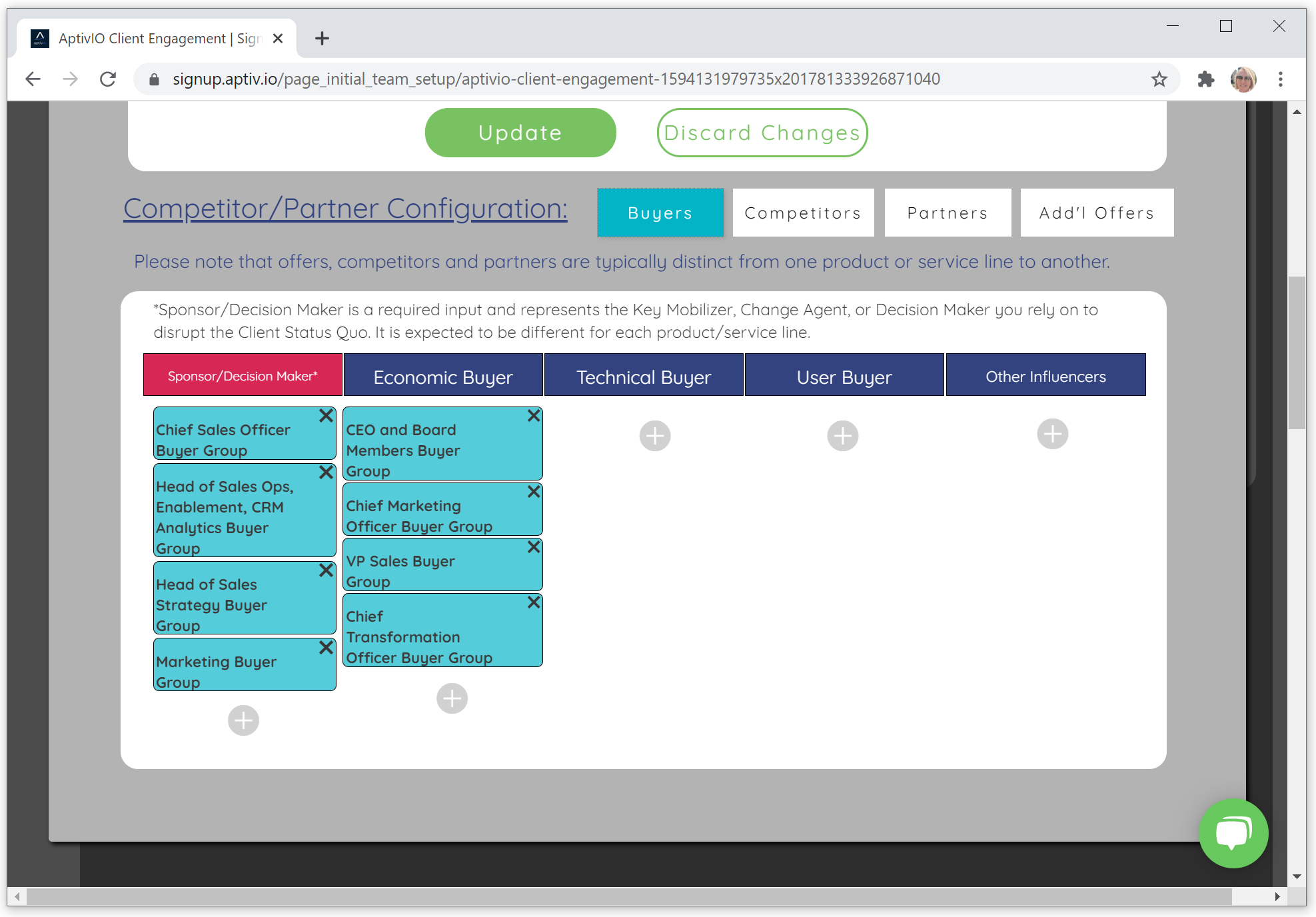 Click on + add symbol in the Sponsor/Decision Maker cell to create a new Buyer Persona Configuration or add a buyer persona you've already created to this product/service.
📃 Note: Sponsor/Decision Maker is a required input and represents the Key Mobilizer, Change Agent, or Decision Maker you rely on to disrupt the Client Status Quo. It is expected to be different for each product/service line. A red add button indicates products that are missing this required entry.
STEP 2. Select from the existing list of previously configured buyer personas, or click Add New to configure a new buyer persona.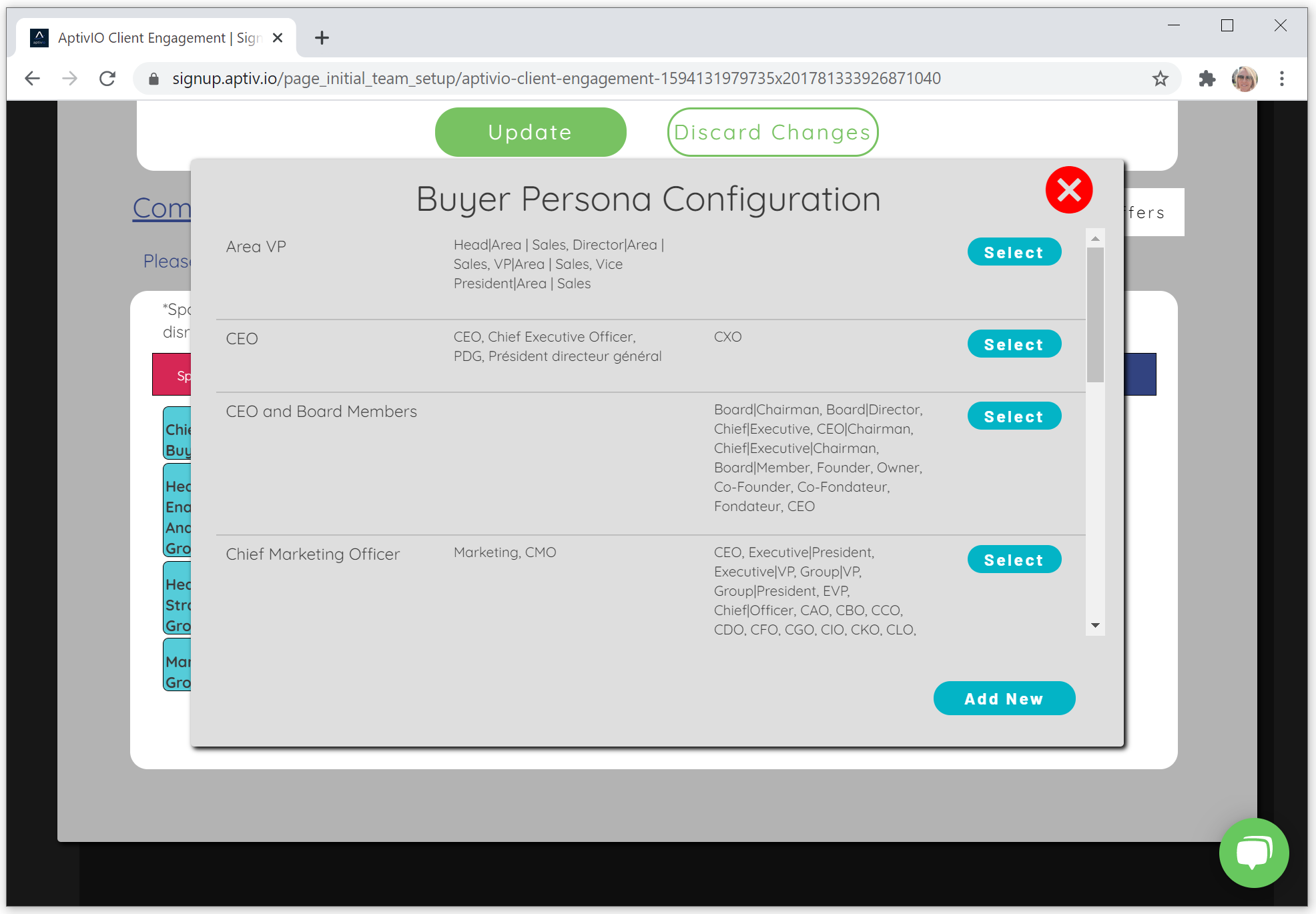 STEP 3. Configure a new buyer persona.
Required fields:
Buyer Group Description, an internal name to identify this buyer group.
Job Function Keywords, the most common keywords encountered at the client to help narrow the scope of Job Level. Without this, we often find that Job Level/Function will return too many hits. Think of job function keywords that might be included in a LinkedIn profile for this buyer group.
Job Level, choose from the dropdown list.
Department (a drop down list) and Skills are optional entries.
📃 Note: if you commonly research full buyer profiles or resumes with mission-critical skills or competencies, please enter these keywords into the Skills field.
Once the buyer persona information is complete, click Add (or Update if editing and existing buyer persona).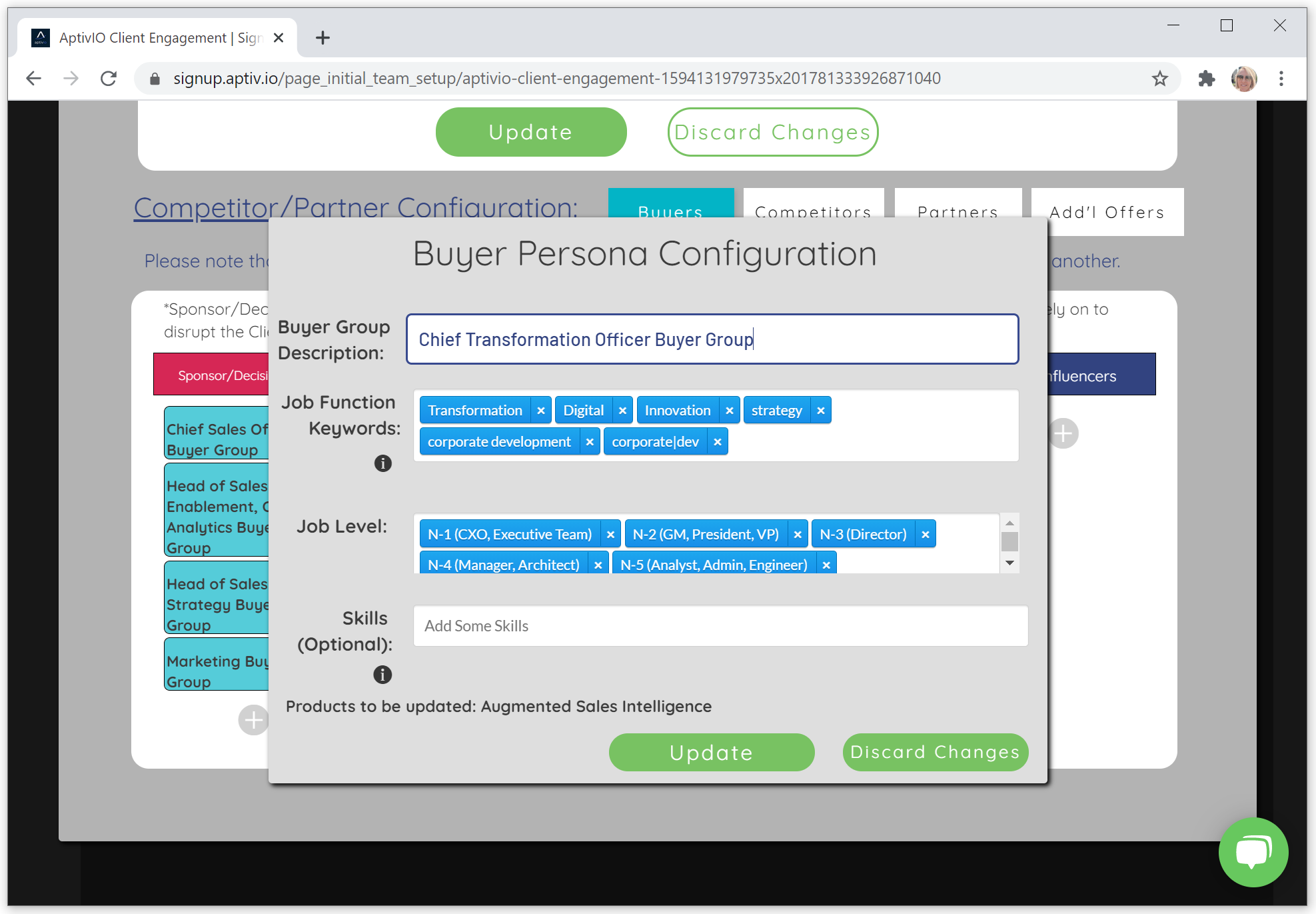 STEP 4. Enter additional buyer types - Economic, Technical, and User, to round out the buying committee. Your initial foot in the door, or biggest champion, may not be the decision maker. Click the + add symbol in each column to configure additional buyer personas within the buying committee.
📃 Note: you will have the opportunity to test the buyer persona keywords upon completion of the Onboarding survey, and will be able to return to this section to make any needed adjustments.