How to stay GDPR and CCPA compliant when using the Aptivio website tracking feature
Onboarding > Advanced Settings > Website Tracking
This guide explains how to stay GDPR (General Data Protection Regulation) and CCPA (California Consumer Privacy Act) compliant when using our website tracking feature: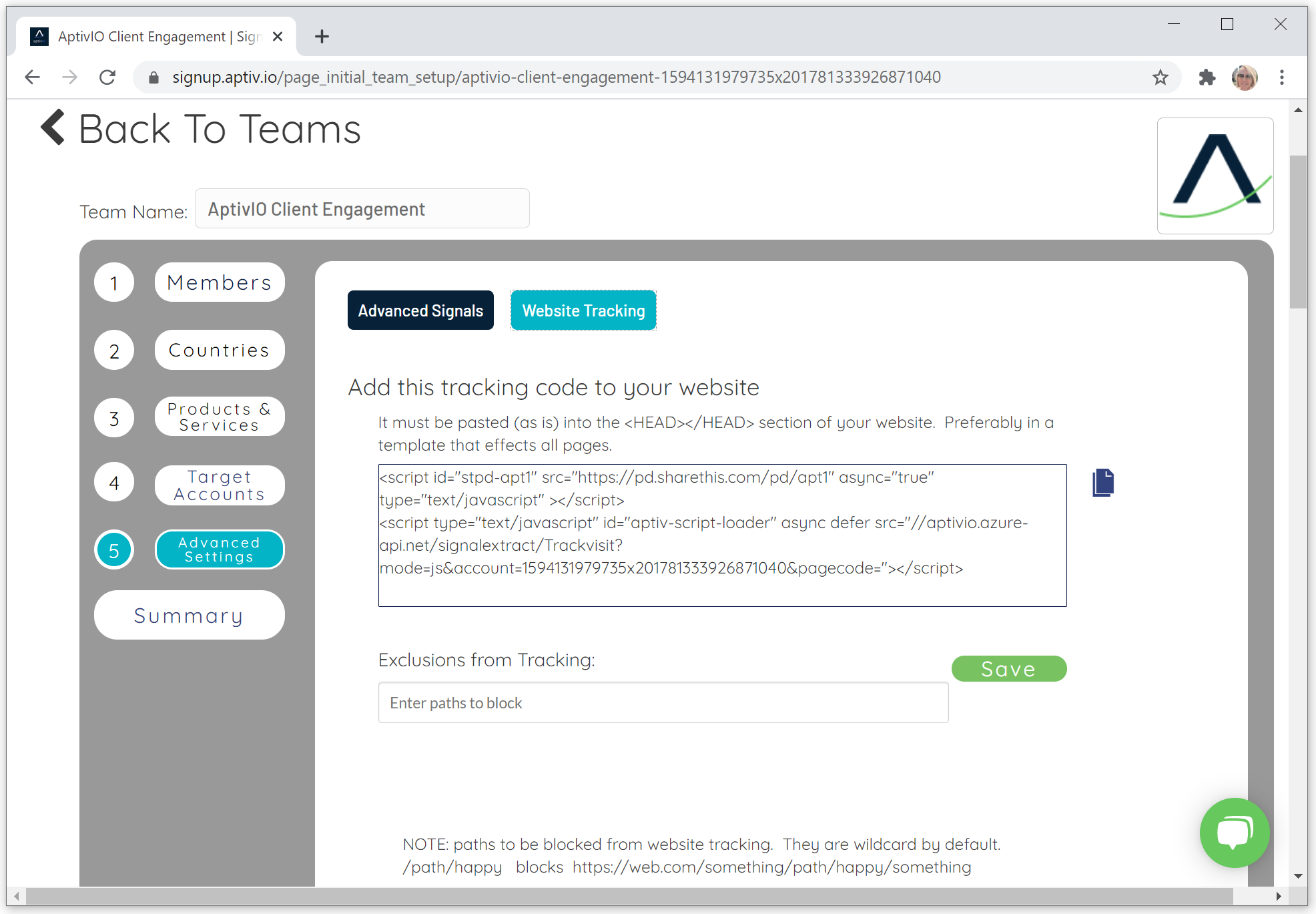 Our software uses Javascript-based tracking code for monitoring web visits. The technology is similar to cookies.
According to GDPR and CCPA, you are the Controller of the personal data of your customers. Since you share that information with us and we process it under your instructions, we are the Processor of such data.
Note: One of the duties of the controller is to notify the customers whose personal data you are processing through a privacy notice and also collect consent if you deploy cookies or similar technologies.
We advise you to mention Aptivio in your cookie and privacy notices as the third party service provider who also has access to personal data, and briefly describe what our technology is used for.
Example clause about Aptivio to add to your cookie notice
Aptivio
We use third party sales intelligence software Aptivio in order to track client activity on our website.
How does it work?
We embed a Javascript-based tracking code on our website. When visitors come to the website, the tracking code sends information to Aptivio about that visitor's web activity.
What information does Aptivio collect?
When tracking code is added to a page, Aptivio stores in an Oracle Cloud in the US the following information:
• Page visits
• Datetime of each page visit
• Hashed/Pseudonymized IP Address (i.e. no recognizable personal information)
This data is automatically deleted after 1 year.
Example clause about Aptivio to add to your privacy notice
We use Aptivio as our third party service provider in order to monitor website visits on the basis of the website operator's legitimate interests (Section 6 paragraph 1 lit.f GDPR) in order to collect and save data on marketing, market research and optimization purposes.
In order to do this, a JavaScript based code, which serves to capture company-related data and according website usage. The data captured using this technology are encrypted in a non-retrievable one-way function (so-called hashing). The data is immediately pseudonymized and is not used to identify website visitors personally.
The data stored by Aptivio will be deleted as soon as they are no longer required for their intended purpose and there are no legal obligations to retain them.