Configure as many of your products and services as you would like to cover in the Aptivio market monitor, including buyer, competitor, and partner details
Onboarding > Products & Services
At a minimum, the product name and marketing webpage / landing page is required. Adding the buying committee is also required. Adding product keywords, competitor's products, and existing or potential partners will enrich the resulting market monitor opportunities and risks.
STEP 1. Proceed to section 3, Products & Services.
Click Add Product button or the edit icon.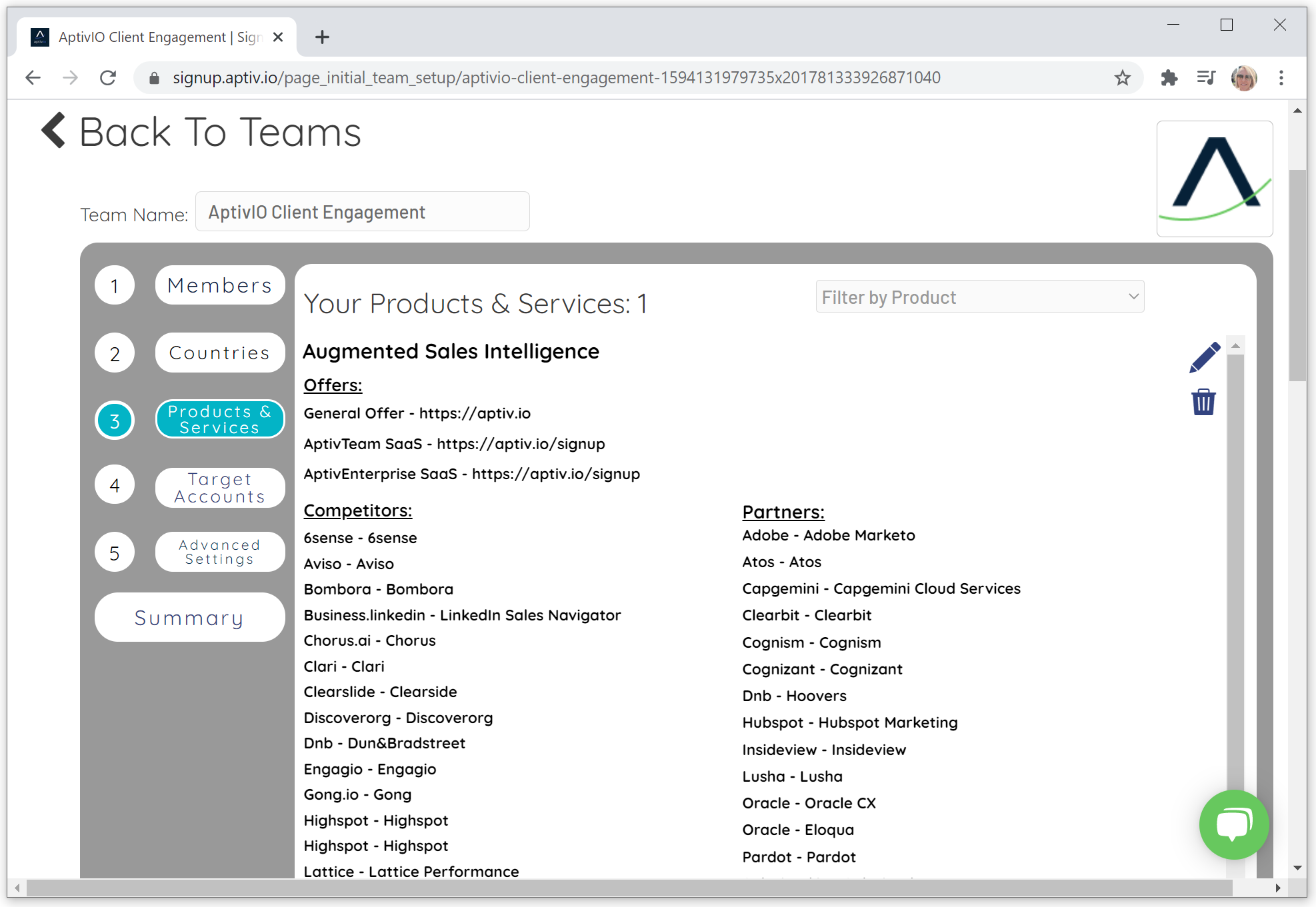 STEP 2. Enter the product or service details. At a minimum, a product name and product page URL (not the company website home page) are required.
The more complete, specific, and detailed these sections are, the more intelligent the results in the market monitor. Deal Size and Keywords are not required, but particularly Keywords are recommended.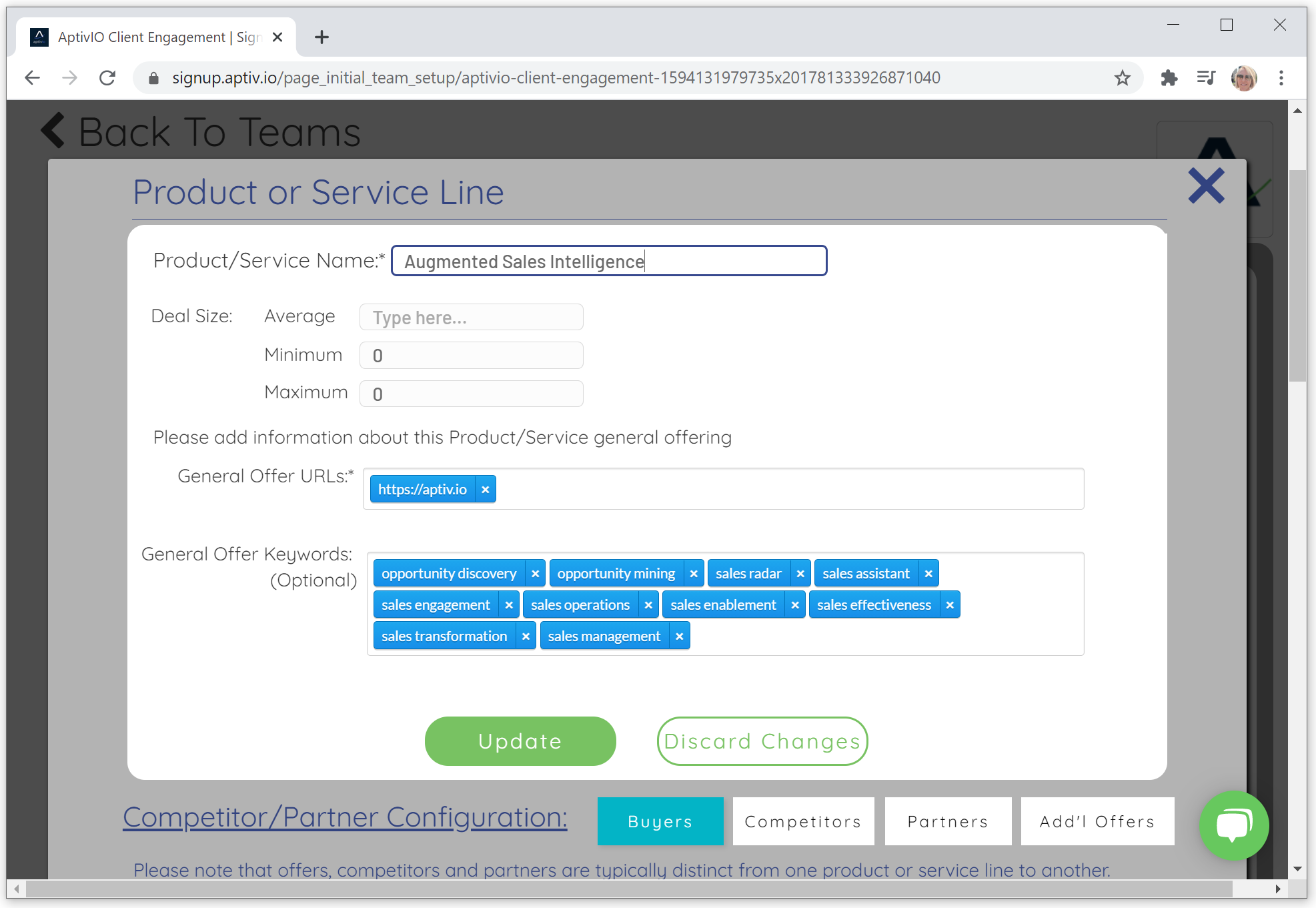 STEP 3. Configure the Buyer personas on the Buyers tab. Click the + to define a new buyer persona. Article: Define BUYING INFLUENCERS.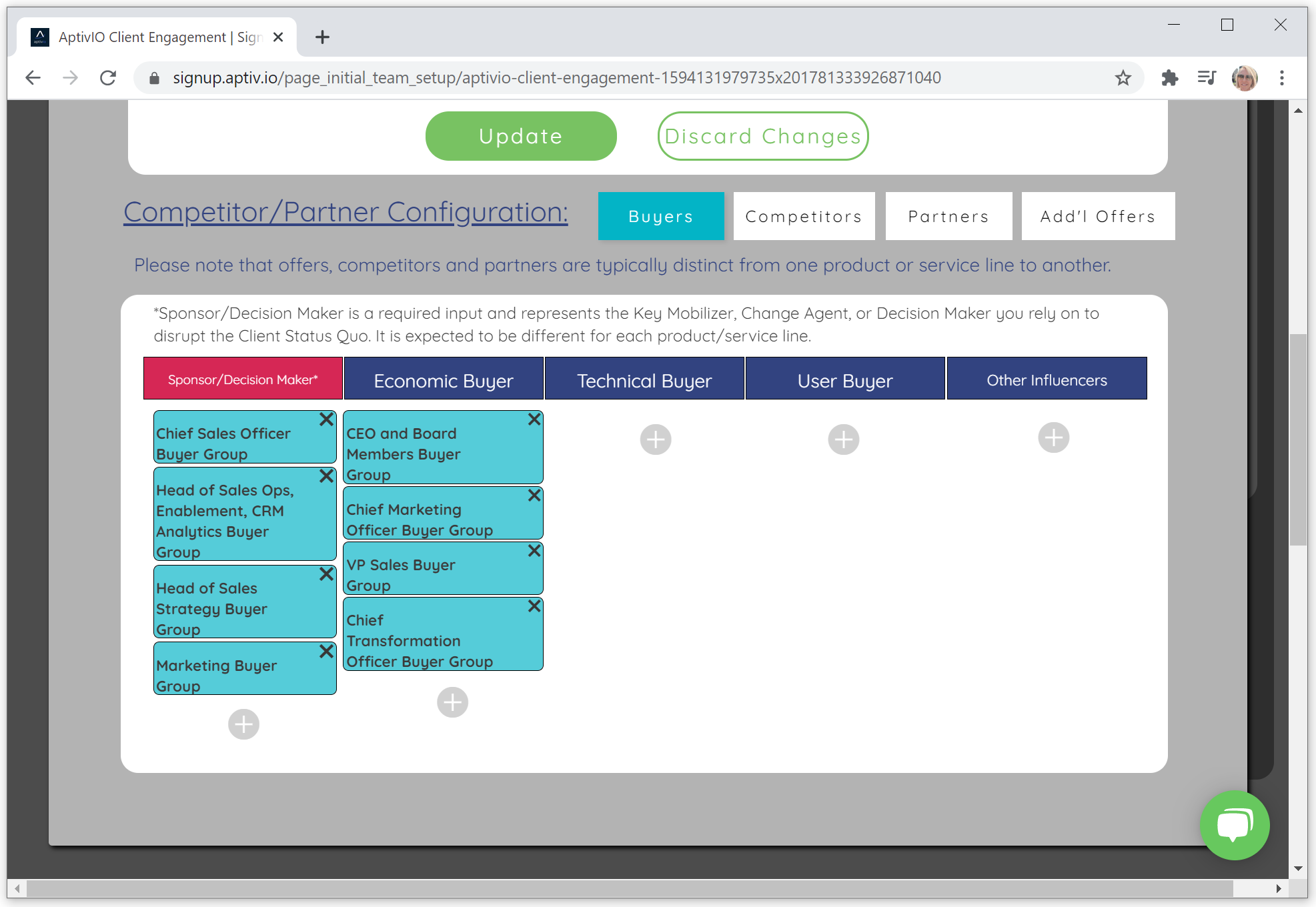 STEP 4. Configure any Competitor products/services on the competitors tab, including product name, specific competitor product URL, and the company name. For best practice, it is important to check whether the competitors have relevant products/services. A quick research before inputing the competitor and product will assure quality information is retrieved later on. Click the Add button to save each competitor record. This is an important step to be able to alert you when a prospect or current client is visiting a competitor's product page.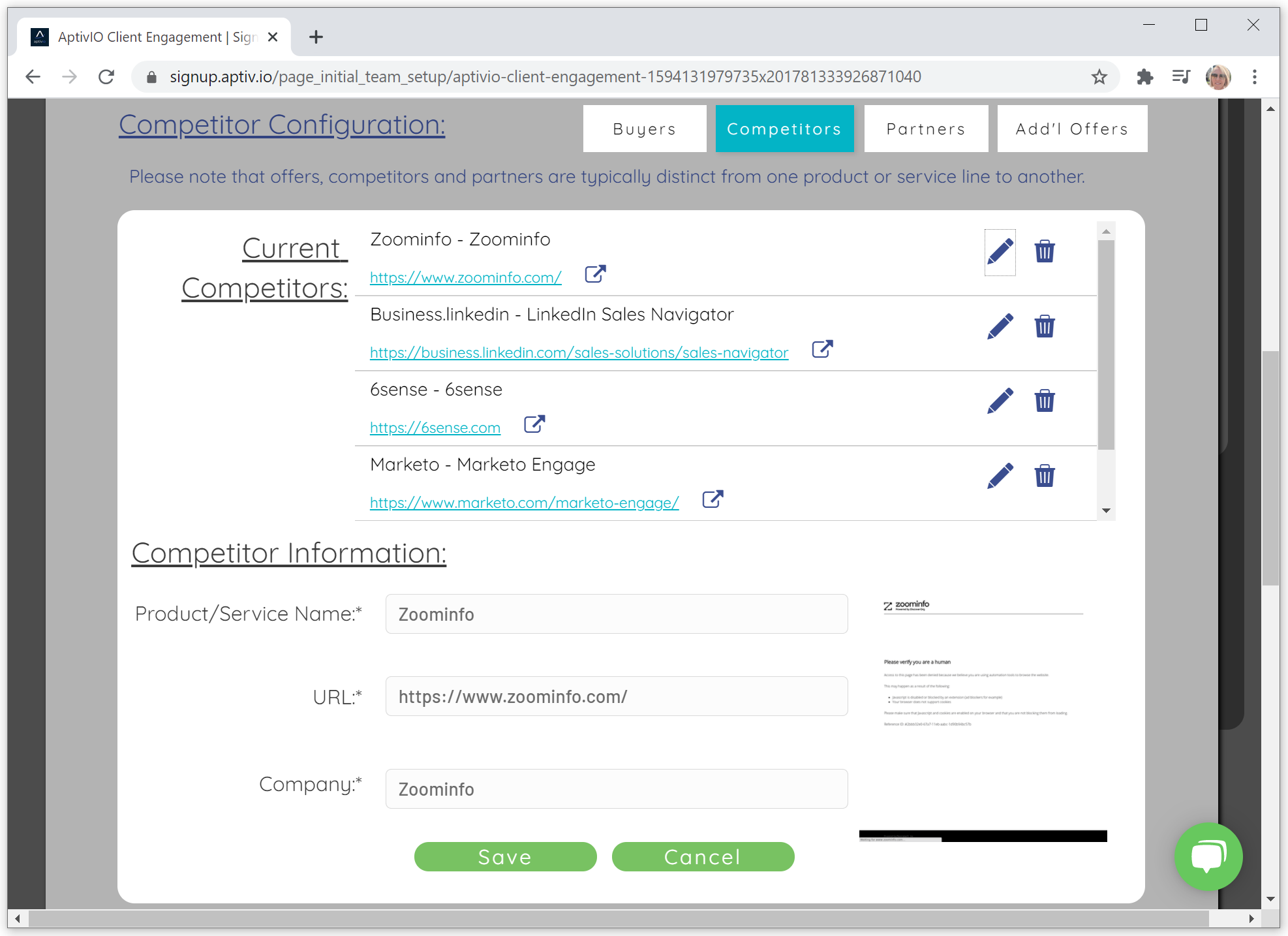 STEP 5. Similarly, click the Partners tab and enter the product, URL, and company details. Click the Add button to save each partner record.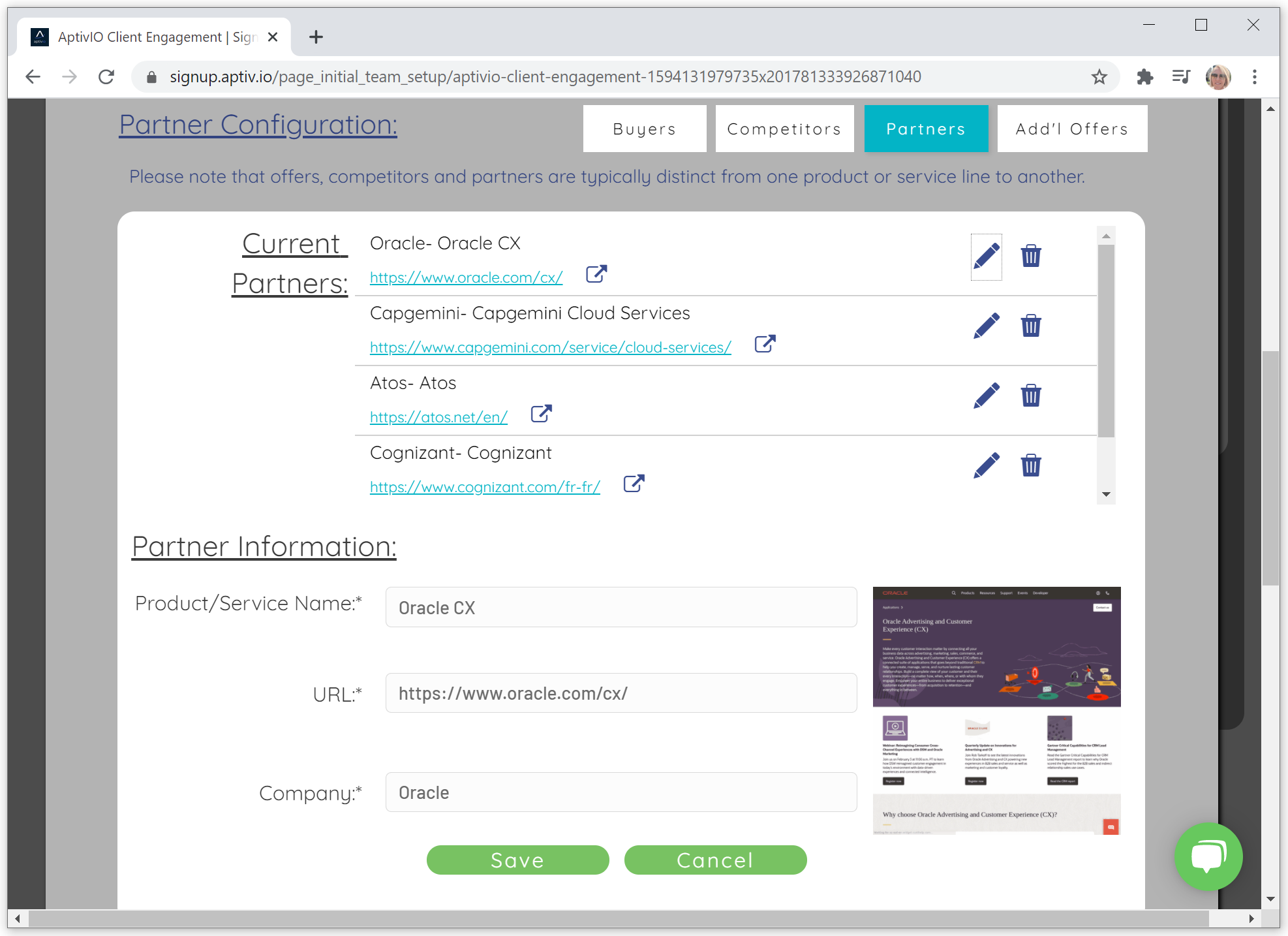 STEP 6. If this product/service is made up of sub-product offers, click the Add'l Offers tab to enter each one separately. Sub-product offer name and distinct product page URL are required.
If entering multiple offers to this product line, changing the Boost setting will increase the weighting of the signals for this particular offer against the other offers in this grouping. Leave this setting to the default of Normal if no special weighting should be applied.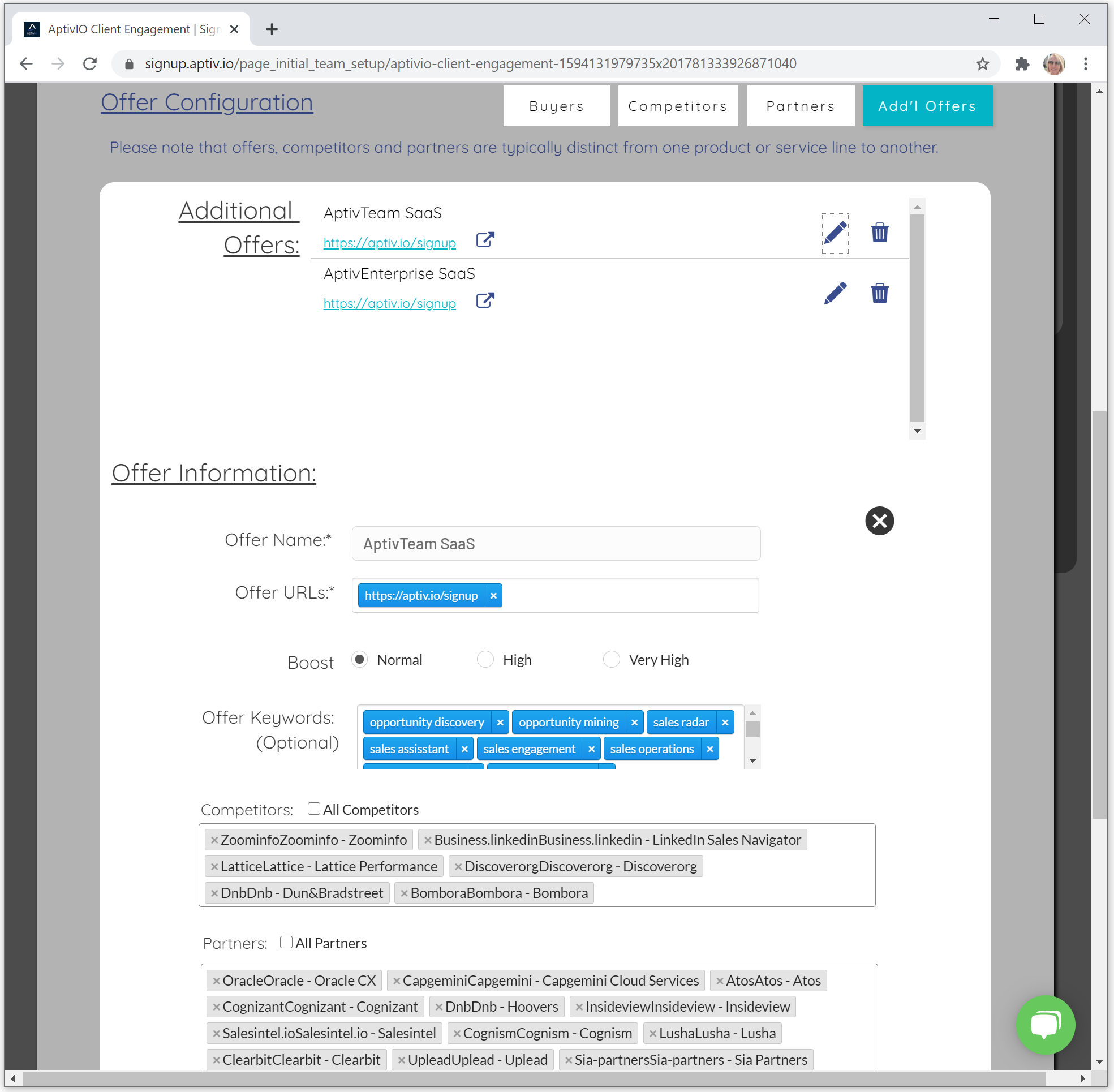 📃 Note: These additional sub-offers will roll up into the main product offer to produce buying intent signals. For example, particularly if the sub-offers are partner-delineated, enter each sub-offer individually to look something like this...
Your Service: SAP
Your Service: Oracle
Your Service: Microsoft
These 3 sub-offers are part of the main product/service offer described here as "Your Service", however they require their own sub-offer name and landing page URL, and potentially keywords, competitors, and partners as well. The Buyers are applied to the main offer, and are not differentiated among the sub-offers.
📃 Note: the sub-offer URL will be available for use by salespeople when responding to a potential buyer, to include in an email for reference for example.
Click the Add button to save each additional offer record.
Repeat steps 2-6 to add additional products/services. Remember to add sub-products to product lines using the Add'l Offers feature.

To edit or delete an existing record, click the edit or delete icon.