A detailed guide to fill in information for Admin and Teams Pages
Owner Admin
Make sure that you have followed well the steps to make the data ready for import in the onboarding app
STEP 1. Create Account
Go to app.aptiv.io > Open Owner Admin

Create your Client Account :
Enter Client Name
Select Default
Check Is Active
Select TRIAL
Click Add

Your Client has been added to the list of all Clients! 😀
Find your Client Name by using the Search bar and Click on Admin
A new tab will open; it is the Account Admin page where you can find the general information on your account.
Enter Client domain and linkedin id

Example for Aptivio as a client:
Url : https://aptiv.io/ Domain: aptiv.io
LinkedIn Url : https://www.linkedin.com/company/aptivio/about/ LinkedIn id : aptivio
Go to Teams
Enter Client Team Name and Click Add New
Client Team name is usually the same as the Account Name, but can be different if you need several Teams for the same Account. Ex : Aptivio 2.0 (Account) have Aptivio PE and Aptivio CE (Teams)

STEP 2. Fill out Team Information
Click on the Team you just created. It opens a new tab; it's the Team Admin Portal
Check Is Active, and Enable Auto-Buyer
Click on Import Settings

Select your Onboarding App Team in the drop down list and Click Run Import. A new tab will open.

Import is done when Status changes from RUNNING to SUCCESS

Close tab
After the import is done, go to Opportunities and activate all the products one by one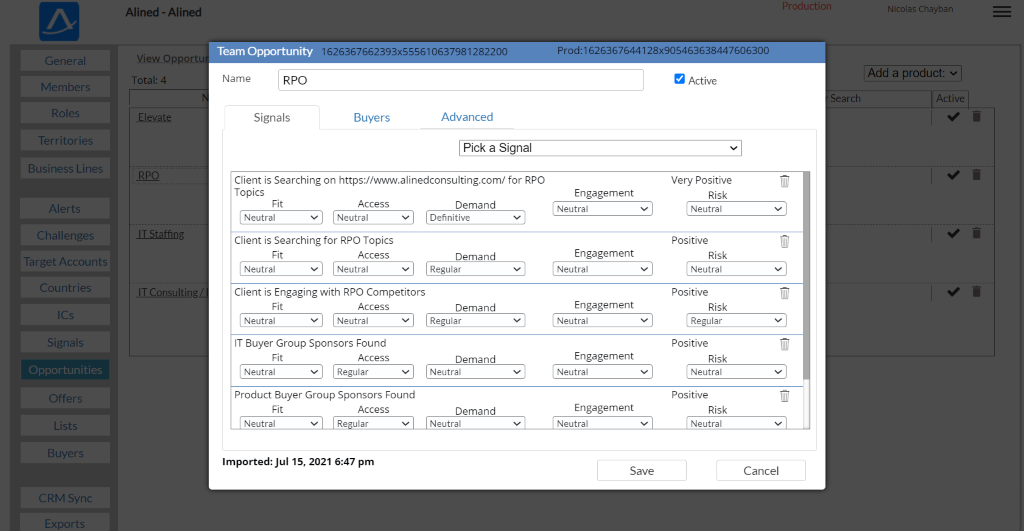 Go to Signals and Retest all signals flagged in red.
Signals are automatically tested by the system. If a signal needs to be retested, it's because it's too noisy. There are 2 options to deal with this:
It's a buyer signal and it's fine if too noisy, you can save it.
It's a search signal. Then you need to verify your keywords and remove the noisy ones from the Onboarding App, import again, and retest your signal.
Go to Roles and create a role for <client name> marketing team as Marketing
Add a customer user in the member tab and assign the <client name> marketing team Role
Make sure that the "Don't send invite" checkbox is checked, as we don't want the client to access the platform right now.

STEP 3. Fill out the rest
There are 3 more section you need to worry about. You will find instructions on how to fill them up in the following documents:
Configure CHALLENGES in Team Admin
Configure Signal ALERTS in Team Admin
That is all. You are done!🙌