Connect Aptivio Market Monitor with Salesforce via Token-based Authentication after installing App from AppExchange
Our base package from AppExchange creates custom data types (Narratives, Buyers and Signals) that are kept synchronized externally from AptivIO.
In order for AptivIO to connect to your SF org APIs a new "Connected Application" must be created with the proper permissions.
NOTE: For more restrictive access in production, it is recommended that you create a new custom SF User "AptivAPI" and grant that user rights to the custom data types: APTIVN__Narrative__c, APTIVN__NBuyer__c, and APTIVN__NSignal. You can then either leverage that users login credentials in the following steps, or add as a "run as" user in the Connected App.
Configuring a connected app:
1. Open the "App Manager" from Setup (Search for "App Manager")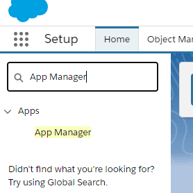 2. Create a new "Connected App" with the following settings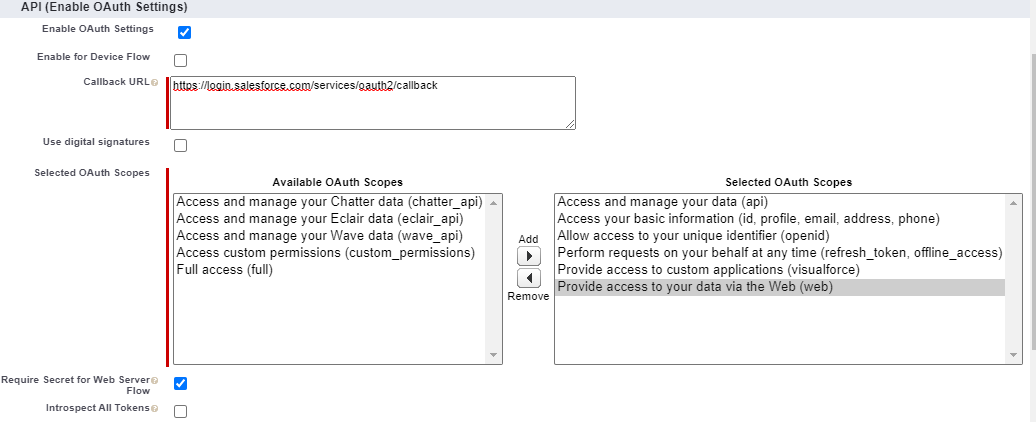 Name: suggest "AptivAPI"
Enable OAuth: check
Selected OAuth Scopes

Access and manage your data
Access your basic information
Allow access to your unique identifier
Perform Requests on your behalf at any time
Provide access to custom applications
Provide Access to your data view the web
Require Secret for web server flow: check
3. Click Save and Continue on Next Page to get to the Summary Page.
On that page click to reveal the Custom Secret and copy both the "Customer Key" and "Consumer Secret" for entry later into the AptivIO Admin Site.

3a. The current policies for this connected app have IP restrictions on which needs to be changed to Relax IP Restrictions. Getting to this page is tricky though. Go back to settings, goto Applications, find our connected app, click the ... action and choose Managed. Then choose Edit Policies.

4. The current API authentication model uses the SF token/password (Full OAuth coming soon) so we need to generate an access token while logged in as the user we will run as.
Click the top right user icon then the settings link.

Reset the security token (if you don't already have one saved)

Check your email for your new token.
5. Log into the AptivIO application and access the Account Admin site (not Team Admin) to configure the rest
Click "CRM Sync" tab and fill in all the values from your prior steps, click Save Changes and Test Connection to Validate. NOTE: If Validation fails contact support through the chat window on the bottom right of the page for assistance.