Review your team's Onboarding survey summary, and perform the required data checks prior to import into Aptivio
Onboarding > Teams > Summary
The team summary is a snapshot of everything you've entered into the onboarding survey. Use this summary to identify gaps or errors in the information entered, and to complete the required data checks.
Access the team summary from the onboarding menu after completing the last step, or from the Teams view, by clicking Summary.
STEP 1. Check survey inputs for any errors
keyword misspellings
bad links to competitors or partners
incorrect product/offer mix/hierarchy
missing or incorrect signal types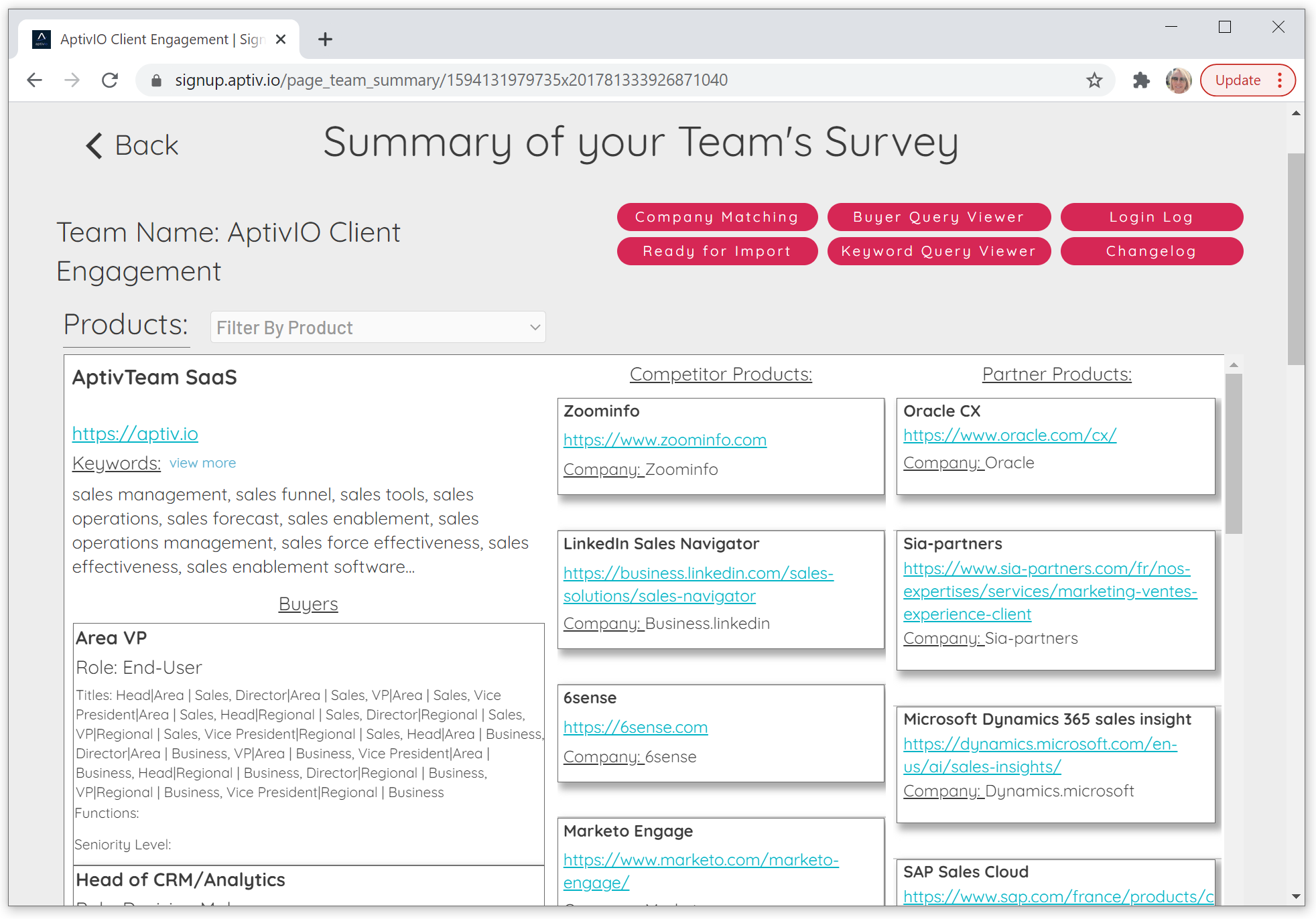 To make an addition or correction in the survey, click Back to return to the Teams page, and click Edit to return to the onboarding survey steps.
STEP 2. Use the red review buttons to complete the required data checks prior to import.
Company Matching - to reconcile your company, and competitor and partner companies with our database to ensure they are the correct company included in opportunity signals from buyer searches.
Buyer Query - to determine what type of results are returned from the title, skills, and level keywords entered for Buying Influencers in Products & Services, and whether adjustments need to be made.
Keyword Query - to determine the signal hits returned from the calculated and manually entered keywords coming from entries made in Products & Services, and select only the best ones. Perhaps the

most important

aspect in this section. This matters because too many broad keywords will generate false positives while too few exact keywords will not generate enough leads. You need to generate plenty of descriptive and unique keywords.
Refer to the Login Log and Changelog features to review which contributors have signed in and what has been changed.
STEP 3. Once the required data checks/changes are completed, confirm with your CS Manager and click the Ready for Import button.