Quick start sign in and first steps for new Aptivio users.
Teams > Home
New users can sign in to Aptivio from the Home page or from the email invite sent to their inbox, using their LinkedIn ID and company email.
STEP 1. From the Aptivio home page https://aptiv.io, click Get Started Free.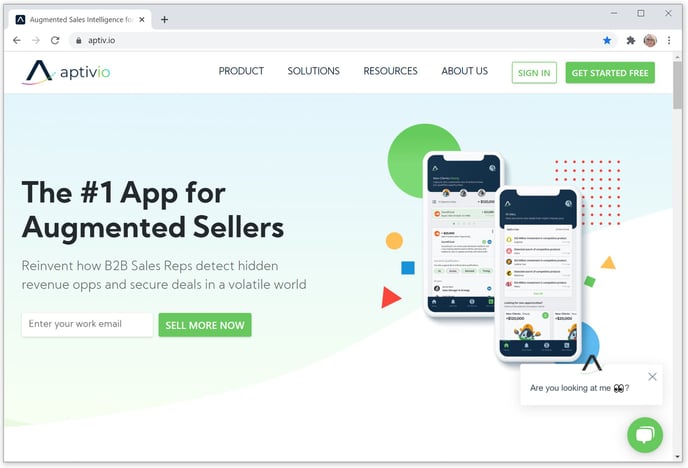 STEP 2. Click Join Your Team.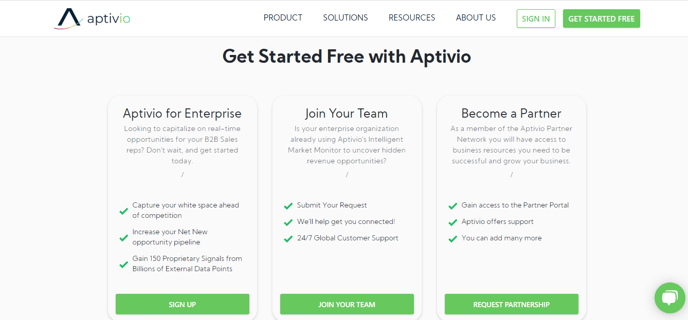 STEP 3. To get started , click on sign up option of Aptivio for Enterprise. There are two options for login
1. Option 1-Log in using your LinkedIn ID.
2. Option 2-Entering email ID.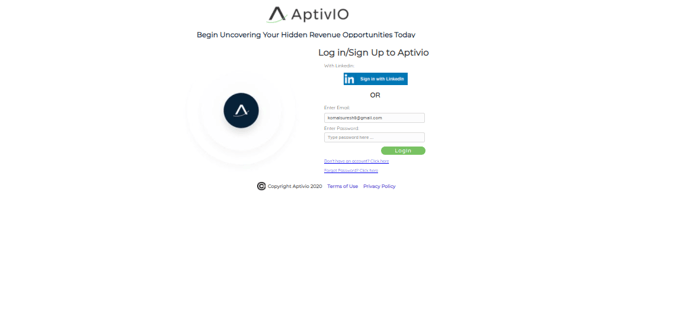 If you don't have an account you need to create a account by clicking on ( Don't have an account ? Click here) . You will land up on the Signup page for AptivIO. Fill the required details.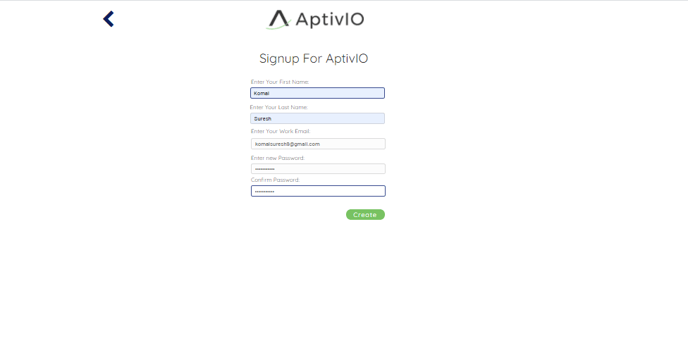 A verification code will be sent to email ID registered. Insert the code to verify the account.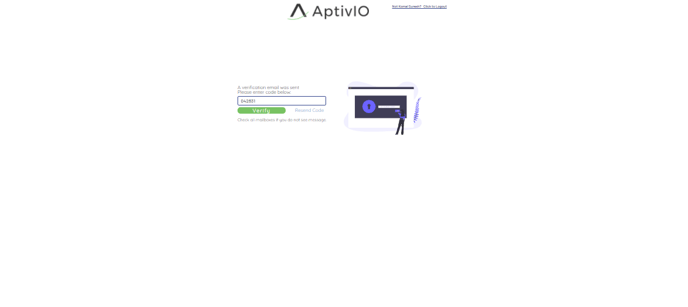 Enter the details of the Sales Team Organization's information and submit the request.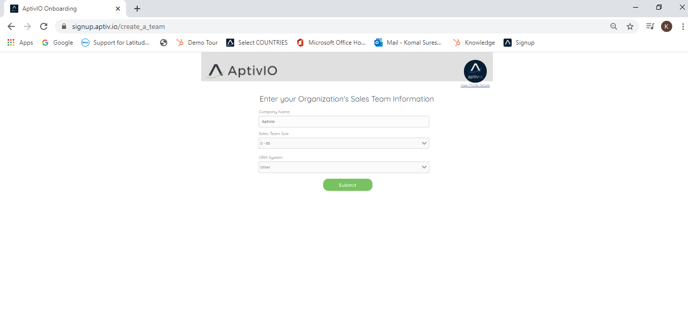 Create your first team name, providing a name to the team and click on Next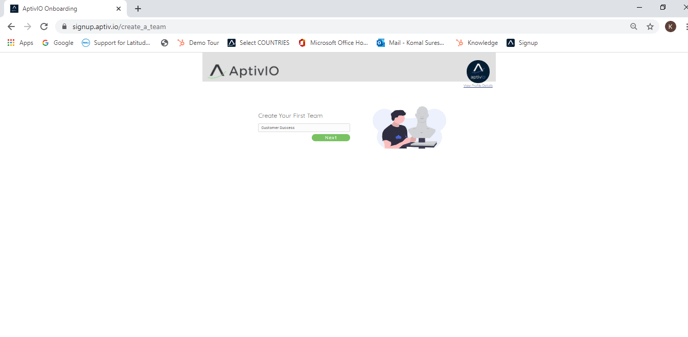 The rest of the method is followed as the Aptivio Onboarding Overview https://help.aptiv.io/aptivio-signup
Sign up options of Aptivio for Enterprise
OPTION 1- Click the email invite to log in. Log in using your LinkedIn ID.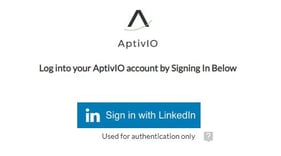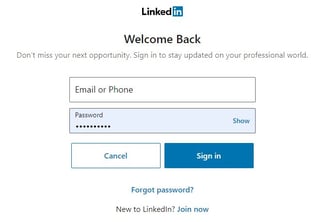 You will be directed to the Aptivio Home page, your at-a-glance working dashboard for any Market Monitors you are assigned to. This dashboard shows the most Recent, Shared and Saved opportunities, Messages within the Team, and Team Stats, with the ability to expand and View All.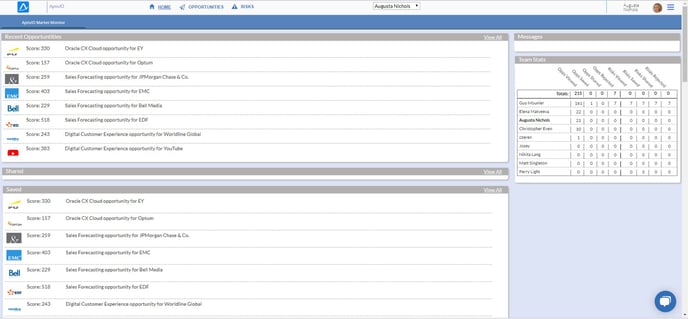 Troubleshooting Note: If you are not directed to the Home page upon sign-in, close the browser and re-click the email invite.
No opportunities assigned to you yet? Skip to Step 4.
STEP 2. View an opportunity record.
Click on any sales opportunity record to view the full record details and act upon the opportunity. From this screen you can
Assign this opportunity to a Watch list, Add to CRM, add Tags, Share with another Team member, Find Buyers or Dismiss (reject).
Export the opportunity.
Add Buyers.
Explore the hover features.

Entity details
Probability Trend indicators
Hit Map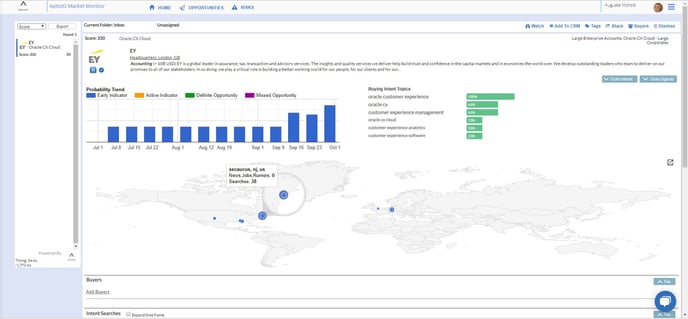 Intent Searches Chart (scroll down)
Signals Chart (scroll down)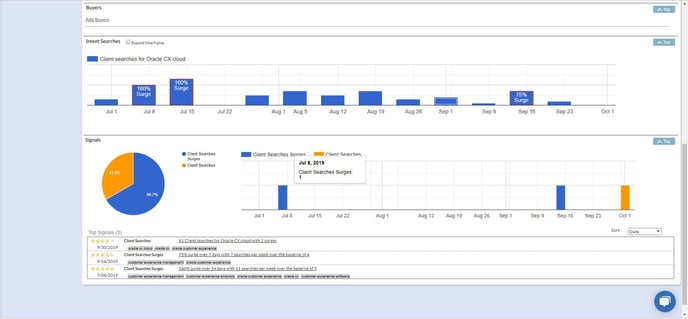 STEP 3. View signal details.
Click on one of the Top Signals to view the signal details. This features gives you the ability to Debug the signal or tag an entity as Not Related (incorrect).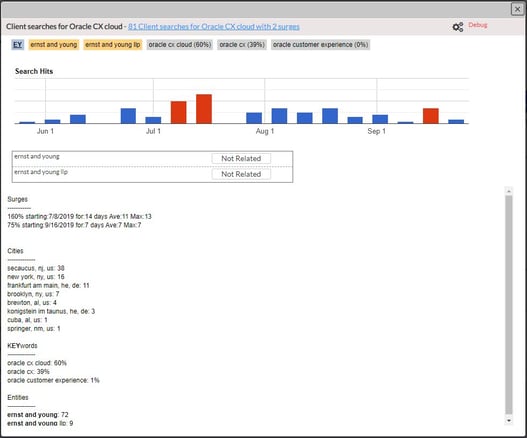 Step 4. Browse sales opportunities.
Click on Opportunities at the top of the page.
Instead of a single opportunity record, you are now viewing all of the opportunity records in the Inbox via the left hand column, with the ability to filter results by clicking the Advanced Filters link at top right.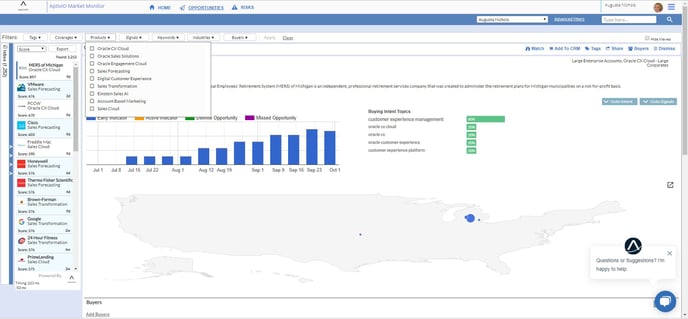 Act upon each sales opportunity after review it, to either add to a Watch list, Add to CRM, Tag it, Share it with a Team member, or Dismiss (reject) it. Expand the menu on the left to view all folders of opportunities that have been acted upon.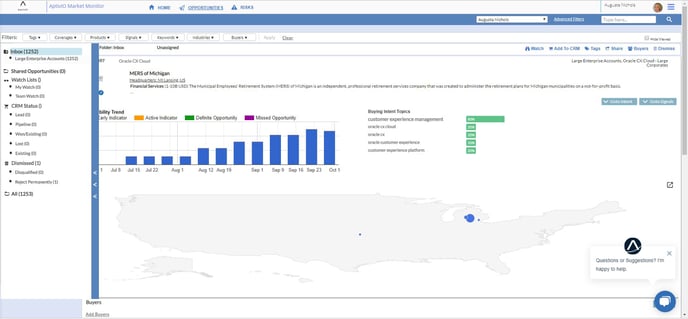 Note: Additional steps may be required to add a sales opportunity to your CRM.
RELATED ARTICLES